Aim and Outputs
Aim – Improve Entrepreneurial Business Environment
Culturally sensitive tourism in the Arctic (ARCTISEN) is a transnational project between six countries, eight project partners and 13 associated partners. Project partners are: University of Lapland, UiT The Arctic University of Norway, Northern Norway Tourist Board, Umeå University, Ájtte - Mountain and Sámi museum, Aalborg University, University of Waterloo and World Indigenous Tourism Alliance. ARCTISEN focuses on improving support systems tailored for start-ups and existing SMEs in remote and sparsely populated areas (specific objective 2.1.) The project started 1st of November 2018 and will finish 30th of September 2021. Total budget is 1.455.547,88€.
The main result of the project is improved entrepreneurial business environment for culturally sensitive tourism. This gives better conditions for tourism start-ups and SMEs in Arctic areas. The main result will be achieved by improving and increasing transnational contacts, networks and cooperation among different businesses and organizations. Improvement of business environment will also result in concrete products and services, locally and transnationally designed, that support the capacities of start-ups and SMEs to develop sustainable, competitive and attractive tourism businesses drawing on place-based opportunities.
The emergence of culturally sensitive tourism products will diversify local economies and attract new visitors to the area, making tourism a more viable and attractive source of livelihood for people living in Northern communities and also better conditions for local companies.
Output 1 – Improved understanding of culturally sensitive tourism business environment
This output will provide information on current tourism business environment in all project countries and also beyond the project borders.
The project has gained an overall understanding about culturally sensitive tourism business environments via interviews, literature review and study of demand. Additional data has been collected on similar business environments around the world to find the best ways of developing business in the programme area.
The results are gathered together into a transnational report and an infographic about culturally sensitive tourism and entrepreneurial climate.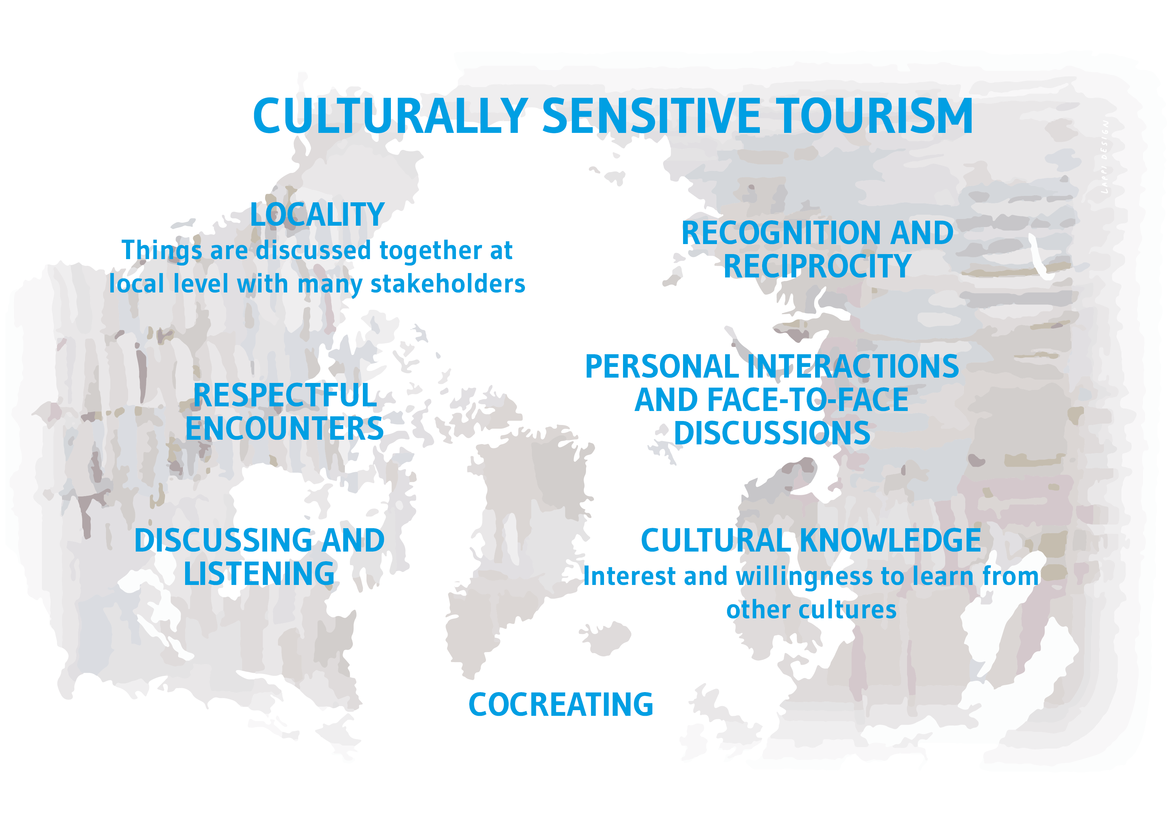 Output 2 – Online courses as toolkits
Arctisen project is in process of creating an online course which offers start-ups, SME's, tourism guides and students opportunities to learn on cultural sensitivity in tourism. This course will be a toolkit for entrepreneurs on how to work with culturally sensitive ways.
After the course, the participant is able to
identify the meanings of cultural sensitivity in tourism and develop one's skills related to them
recognise, describe and reflect upon challenges related to cultural sensitivity in tourism and particularly in one's own work and
create and apply culturally sensitive approaches in one's work by using practical tools given during the course.
The new information learned during the course can be used to develop innovative tourism products and services, to understand and respect local cultures.
The course will be launched early 2021 and it will be free for everyone!
Output 3 – Guidelines and New Tourism Products and Services through Network Building
Start-ups, SMEs and other project participants have helped the project to co-create guidelines for culturally sensitive tourism business in order to raise awareness and respect towards cultural diversity in The Arctic tourism context among tourism actors. These guidelines will be co-created based on the videos recorded for the online course as well as other material collected during the project lifetime.
Moreover, the project will enable the project participants to familiarize with each other and test visit each others businesses during benchmarks. The first benchmark was done in Nov-Dec 2019 in Greenland. This process will result a transboundary network of tourism actors and co-created new, culturally sensitive tourism products and services.
As one of the results, the project has collected important tourism guidelines around the project area and gathered them together to a prezi-presentation, which will guide you through the world of guidelines. Guidelines and quality certificates provide learning materials and means of recognition for companies that aim to improve their tourism services towards a more sustainable and responsible tourism practice. In the presentation, there are examples from Canada, Greenland, Finland, Sweden and Norway, but also some important international guidelines. Hopefully they will give all the stakeholders new ideas and inspiration.